July 18, 2007
Occasionally I get messages from people that think I died, and then accuse me of leading them on when they find out I'm still living. I'd say, "maybe I should update my web site more", but really, I kind of like the mystery.
So here's what's new: ONE! I bought a melodica and I am thinking of quitting my day job to be with it all the time. It makes me want to forsake all other forms of musical expression. From now on, everything I say, I say via melodica. TWO! I went to Spain and it was totally awesome. THREE! I wrote a song about dirty moths. Yes, moths. FOUR! There's a performance of John Coltrane's "Ascension" Saturday night (the 21st) at the Tranzac, for the 40th anniversary of Coltrane's death. This piece is worth hearing. Also featuring "Haphazard Hinges" by Kyle Brenders (for 25 saxophones, of which I will be a lucky one), and Picastro. I think this could be like tiny pink elephants partying in your ears. I think you should be there.
Stay tuned (saying that is like Lucy holding the football up for Charlie Brown) for more news as it becomes available. Maybe I won't skip an ENTIRE YEAR this time. But maybe, just maybe, I will.

November 29, 2005
Remember that time when I said I'd write more when I had more names to drop? I just found out the most awesome thing ever... possibly, dare I say, the pinnacle of my musical career...
So I used to do these crappy midi arrangements of pop songs... back when I wasted my time doing creative things (now I just waste it thinking up bitter insults about successful people... uh... uh... I didn't mean that)... anyway so I got an email today from this guy who says he found my crappy midi version of Patio Lanterns scored for a recorder choir (the later-recorded live version is here) and posted it on the Kim Mitchell website bulletin board. This would be hilarious enough (Kim Mitchell reads the board) but the next person that posted said that that's the piece of music the band has been using as their stage intro at shows. Seriously. It was verified by someone else on the site. Kim Mitchell stole my stuff! THAT I STOLE FROM HIM!
Best. Day. Ever.

June 4, 2005
"Round, Like a circle in a spiral/ Like a wheel within a wheel/ Never ending or beginning/ On an ever-spinning reel"
What does that have to do with anything? Nothing. I've just had "The Windmills of Your Mind" in my head for a couple of days now and I thought I'd share.

I'm heading to Track and Field today and I'm looking forward to sleeping in a tent for the first time since Girl Guide camp, I think. Okay there was one other time, but if you're one of my friends from first year at Waterloo, you know we don't talk about that. After Track and Field I'm heading back for a show with the Hidden Cameras at the Phoenix Sunday night. I will be playing my saxophone and shaking my pants to the tunes. I am quite looking forward to it.
I guess I haven't been doing too much else. I did record a wee thing for Henri Fabergé and the Adorables a couple of weeks ago, and that was lovely. I am also playing keyboards with We Had Wild Adventures!! and in talks to grovel my way back into the sometimes choir of Jon-Rae and the River. I feel like my musical life is pretty satisfying these days.
It's summery again today, and I'm going to go outside and do some sweating. Please continue to email me for t-shirts! I'll be sure to write more when I have more names to drop.

April 2, 2005
I've been working at some new Kill Unit material, you'll be happy to know we're turning the EP proposal into a full-length release, and it's gonna be featuring a choir of pirates and the return of Conan the Barbarian. By the time we actually get it out I think it will be a box set, and it will be the last thing I do. Literally.
In other Kill Unit news, I've got some shirts done. This is what they look like: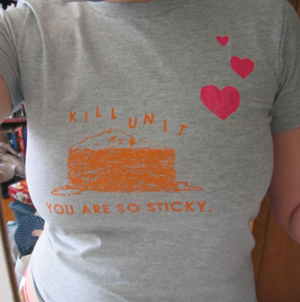 Want one? I'm making them order by order, and nothing would please me more than to hand-screen you one in your desired size/colour. Just email me and ask for details.
November 23, 2004
I've finally updated the Sounds section of the site. I've included a clip from "Love Song" from K-os' new album "Joyful Rebellion", which I did a string arrangement for (I've also posted a link to the video, and I'd like to point out the obvious visual accentuation of the string part), and a recorder choir arrangement of Kim Mitchell's Canadian classic "Patio Lanterns". There should be more going up in a couple of weeks.
I've been working on some art stuff recently as well so by the new year I should have some things to show off in the Sights section as well.
September 24, 2004
So! The K-os record "Joyful Rebellion" has been released and sounds great! The singles have been really catchy and the rest of the album follows up well. I love it!
Next on the list is the Kill Unit EP, "Candy Party". We're currently looking at manufacturing it (the mixing and mastering is done!) and hope to have it out early next year. The show in June, by the way, rocked! We broke a lot of stuff (strings, cymbal stands, my dress) and had tonnes of fun opening for Republic of Safety and Final Fantasy. I also had the chance in August to play with the Hidden Cameras at the Harbourfront Centre. Such fun! They're in Europe now for the next 3 weeks and touring the US and Canada after that.
I'm currently working at more tracks for Kill Unit. YES! I'll update soon.
May 26, 2004
Alright. Are you ready?
Kill Unit is lined up to play a couple of shows in June. The first (sort of a warm-up) is on June 3rd at the C'est What as part of a benefit for TWILL (for details check out www.harmonytrowbridge.com). Other acts on the bill include Final Fantasy, John Southworth, and Harmony Trowbridge herself (as well as others). Cover is $10 and goes to a good cause.
The second show is our real debut and will be taking place June 16th at the Drake Hotel with Republic of Safety. At this show we hope to bring you... TA-DA!... our completed EP, "Candy Party". I will be posting details soon at the Kill Unit website. In other arranging news, the London Central S. S. Stage Band took my arrangement of "Baby, It's Cold Outside" to Kiwanis and won the "A" class trophy. They went to the Nationals in Montreal last week and I haven't heard about the results but I'll be sure to let you know. I should have a sound clip on here someday.
Keep in touch for updates regarding the Kill Unit CD and all the other projects on the go...
May 19, 2004
Did you go to see Kill Unit in March? Neither did I. The show was cancelled but we've bred two more in its place. I'll give you more details in due time.
In other news, K-os will be releasing his new album, "Joyful Rebellion", on August 17th according to the EMI Canada website.
March 25, 2004
Kill Unit will be playing a coffee-house benefit for my friend Thea (she's a nurse working with the homeless) on Friday, April 2nd at Danforth Baptist church. In a way it's hard to imagine the irreverant Kill Unit playing a church; in another way it's the most natural place for us to be. I like a band with a good solid contradiction. Show starts at 7:30.
My home computer is back up and running thanks to the extensive help of Gabe. Hooray for you, Gabe! Look here within the next two weeks for sound clips from some recent projects and hopefully some photos of Kill Unit on the 2nd.
As well, K-OS should be releasing his new record in June, with the first single out in April. I'll let you know when I hear the official date and details. I can't wait to hear it!
February 23, 2004
Jim's dates in January were lots of fun and sounded great. The CD release in Toronto was the highlight; I also joined Jim for shows in London (Call the Office), Waterloo (the Starlight Social Club), and again in Toronto at one of Wavelength's 200th issue shows (the Music Gallery). Jim's CD has been reviewed all over the place, you can read some of them on-line:

Kill Unit is featured on a promotional CD from Blue Microphones' Silly Summer Songfest 2003 finalists CD, available (apparently) at selected Blue Microphones dealers. You can contact Blue from their website to find out how you can get one, they may also be available for download at some point. I will be sure to let you know.
January 13, 2004
Happy New Year! Just one quick update during a break at work: Jim Guthrie's CD release is this Saturday (the 17th) at the Horseshoe. You should all come, Internet Strangers, EVERYBODY should be there. I'll be expecting you!
October 15, 2003
Back to work now that the cold crappy weather is here and nobody wants to play outside anymore. Finishing off the summer I managed to get into the finals of a "Silly Song Contest" held by Blue Microphones. I wrote the song and Kill Unit recorded it. The rules were that it had to contain 10 of 25 "silly words" chosen by the folks at Blue (our entry, "Wanda", contained all 25!). I'll be posting it soon, check back in a few days. In the mean time, you can read about me here.
I'm currently working on arrangements for London Central Secondary School's Jazz Band and a string quartet for K-OS; I'll hopefully be posting excerpts of these when they're recorded/released.
August 13, 2003
Well, Italy was incredible, I loved Greece, London and Paris too. Now it's time to start making some money so I can go back! Only a couple of things to note:
Kill Unit will be playing a one-song set on August 22nd at the Cameron House in Toronto for the CD party of Die Monkey Die. As well, Jim Guthrie's new CD (to be entitled "Now More Than Ever") will be released in the fall, and yours truly will be appearing to help the noisy celebrations. More on that next time.
April 3, 2003
Heavens! Things have been busy around here. I've been busy packing and planning for a foray to Italy and Greece coming up in a couple of weeks-- who knew vacationing was so much work? I was also in London recording flute, clarinet, and saxophone for Jim Guthrie's upcoming CD at House of Miracles with Andy Magoffin. It sounds absolutely beautiful-- Mr. Guthrie is a heck of a songwriter. I'll let you know here when the CD is due out and what it's called. In the mean time, send me an email! I'll be checking while I'm overseas.
January 28, 2003
Well here's just a *little* newness for you... If you add my page to your favourites, you'll see what it is the next time you go into your browser. Hope you had a fabulous holiday!

November 29, 2002
Everything's news today! Welcome to the site, I know there's a lot yet to be done but for now you can just poke around and enjoy the great font, do a little reading, send me an email. There will be more, MUCH more, coming soon. Check back here for updates!